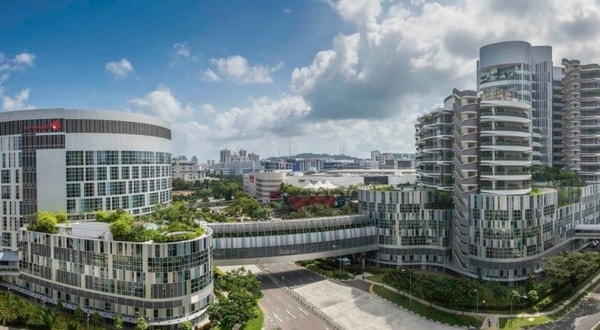 The Ng Teng Fong General Hospital is the most modern hospital in Singapore with a capacity of 1,100 beds.
Jurong Health Services, Singapore's newest public healthcare cluster, is constructing the 700-bed Ng Teng Fong General Hospital and the twinned 400-bed Jurong Community Hospital – all to be opened in July 2015.
The new Operating Rooms – in total 18 operating rooms including one hybrid O.R. – are all integrated by employing caresyntax® digital integration solutions. The O.R. s are equipped with a central custom designed CX·HUB control and monitoring console. All electronics is integrated in the "in-wall" console together with a 47″ display. Two 42″ displays serve as medical dashboards.
The caresyntax® CX·DIRECT module connects a number of video sources to the 4K Philips multiviewer monitors. CX·STUDIO allows documenting any video source interfaced to the CX·HUB. A telemedicine solution is provided by the CX·SHARE module and the CX·LINK enables importing worklist and patient information from the hospital EPIC system.
Thanks to the "In-wall" CX·HUB solution with all electronics integrated and no requirement for electronic cabinets on the floor or on the pendant shelves a true space-saving "zero-footprint" solution is realized.